Page 28 - 2017 Griffin Gazette Issue 4
P. 28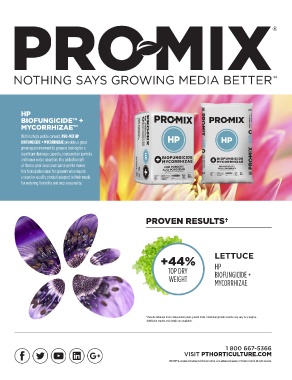 HP
BIOFUNGICIDE™ +
MYCORRHIZAE™

With its high perlite content, PRO-MIX HP
BIOFUNGICIDE + MYCORRHIZAE provides a great
growing environment to growers looking for a
significant drainage capacity, increased air porosity
and lower water retention. The added benefit
of fibrous peat moss and coarse perlite makes
this formulation ideal for growers who require
a superior-quality product adapted to their needs
for watering flexibility and crop seasonality.

                                                       PROVEN RESULTS†

                                                       +44%       LETTUCE
                                                                  HP
                                                         TOP DRY  BIOFUNGICIDE +
                                                          WEIGHT  MYCORRHIZAE

                                                       † Results obtained from independent plant growth trials. Individual growth results may vary to a degree.
                                                       Additional results and details are available.

                                                                                                1 800 667-5366
                                                                          VISIT PTHORTICULTURE.COM

                                                                               PRO-MIX® is a registered trademark of Premier Tech Ltd. or its affiliated companies © Premier Tech Ltd. All rights reserved.