Page 5 - 2017 Griffin Gazette Issue 4
P. 5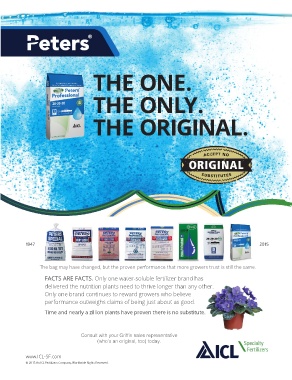 THE ONE.
      THE ONLY.
      THE ORIGINAL.

1947                                                                                                     2015

        The bag may have changed, but the proven performance that more growers trust is still the same.

         FACTS ARE FACTS. Only one water-soluble fertilizer brand has
         delivered the nutrition plants need to thrive longer than any other.
         Only one brand continues to reward growers who believe
         performance outweighs claims of being just about as good.
          Time and nearly a zillion plants have proven there is no substitute.

                                  Consult with your Griffin sales representative
                                            (who's an original, too) today.

www.ICL-SF.com

© 2015 An ICL Fertilizers Company, Worldwide Rights Reserved.