Page 3 - Griffin Gazette Issue 1 - 2018
P. 3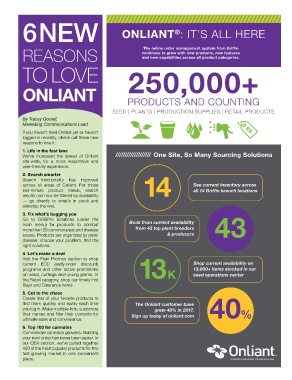 6 NEW                                    ONLIANT : IT'S ALL HERE


                                                                         ®


          REASONS                                           continues to grow with new products, new features
                                                            The online order management system from Griffin
                                                            and new capabilities across all product categories.
          TO LOVE

                                                      250,000+

          ONLIANT                                     PRODUCTS AND COUNTING




                                               SEED | PLANTS | PRODUCTION SUPPLIES | RETAIL PRODUCTS
          By Tracey Gorrell,
          Marketing Communications Lead
          If you haven't tried Onliant yet or haven't                                                 $$
          logged in recently, check out these new
          reasons to love it:
          1. Life in the fast lane
          We've increased the speed of Onliant                  One Site, So Many Sourcing Solutions
          site-wide, for a more  responsive and
          user-friendly experience.
          2. Search smarter
          Search functionality has improved
          across all areas of Onliant. For those            14                   See current inventory across
          last-minute product needs, search                                      all 14 Griffin branch locations
          results can now be filtered by availability
          — go directly to what's in stock and
          sidestep the rest.
          3. Fix what's bugging you
          Go to GGSPro Solutions (under the
          main menu) for products to combat           Book from current availability
          more than 20 common pest and disease           from 43 top plant breeders       43
          issues. Products are organized by pest/                     & producers
          disease; choose your problem, find the
          right solutions.

          4. Let's make a deal
          Visit the Plant Promos section to shop
          current EOD (early-order  discount)                                    Shop current availability on
          programs and other active promotions                                   13,000+ items stocked in our
          on seed, cuttings and young plants. In          13K                    seed operations center
          the Retail category, shop our timely Hot
          Buys and Clearance items.
          5. Cut to the chase
          Create lists of your favorite products to
          find them quickly and easily each time         The Onliant customer base
          you log in. Make multiple lists, customize             grew 40% in 2017.
          their names and filter their contents for                                     40%
          ultimate ease and convenience.               Sign up today at onliant.com
          6. Top 100 for cannabis
          Commercial cannabis growers: Building
          your next order has never been easier. In
          our CEA section, we've pulled together
          100 of the most popular products for this
          fast-growing market in one convenient
          place.