Page 6 - Griffin Gazette Issue 2 - 2018
P. 6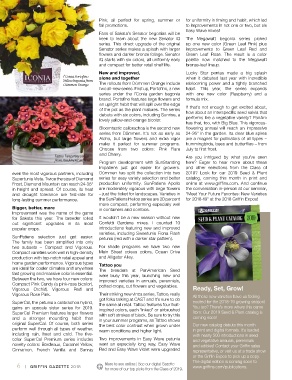 Pink, all perfect for spring, summer or    for uniformity in timing and habit, which led
                                          fall promotions.                    to improvements in not one or two, but six
                                                                              Easy Wave mixes!
                                          Fans of Sakata's Senator begonias will be
                                          keen to learn about the new Senator iQ   The Megawatt begonia series picked
                                          series. This direct upgrade of the original   up one new color (Green Leaf Pink) plus
                                          Senator series makes a splash with larger   improvements  to  Green  Leaf  Red  and
                                          flowers and darker bronze foliage. Senator   Green Leaf Rose. The result is a color
                                          iQ starts with six colors, all uniformly early   palette  now matched to the Megawatt
                                          and compact for better retail shelf life.  bronze-leaf lineup.
                                          New and improved,                   Lucky Star pentas made a big splash
                           I'Conia Portofino   alone and together             when it debuted last year with incredible
                           Yellow begonia from
                           Dümmen Orange  The rollouts from Dümmen Orange include   reblooming power and a tightly branched
                                          two all-new series. First up, Portofino, a new   habit. This year, the series expands
                                          series under the I'Conia garden begonia   with  one new color (Raspberry) and a
                                          brand. Portofino features large flowers and   formula mix.
                                          an upright habit that will spill over the edge
                                          of the pot as the plant matures. The series   If that's not enough to get excited about,
                                          debuts with six colors, including Sunrise, a   how about an interspecific seed salvia that
                                          lovely yellow-and-orange bicolor.   performs like a vegetative variety? PanAm
                                                                              has that, too, with Big Blue. This vigorous-
                                          Bloomtastic calibrachoa is the second new   flowering annual will reach an impressive
                                          series from Dümmen. It's not as early as   24-36" in the garden. Its clear blue spires
                                          Aloha, but large flowers and extra vigor   are a magnet for pollinators of all types –
                                          make it perfect for summer programs.   hummingbirds, bees and butterflies – from
                                          Choose  from  two  colors:  Pink  Flare    July to first frost.
                        Tattoo Tangerine vinca   and Cherry.                  Are you intrigued by what you've seen
                        from PanAmerican Seed  Program development with SunStanding   here? Eager to hear more about these
                                          impatiens just got easier for growers.   and other selections from the Class of
      even the most vigorous partners, including   Dümmen has split the collection into two   2019? Look for our 2019 Seed & Plant
      Supertunia Vista. Twice the size of Diamond   series for easy variety selection and better   catalog, coming this  month in  print  and
      Frost, Diamond Mountain can reach 24-36"   production uniformity. SunPatiens Apollo   online at www.griffins.com. And continue
      in height and spread. Of course, its heat   are moderately vigorous with large flowers   the conversation in-person at our seminar,
      and drought tolerance are first-rate for   – just the ticket for landscapes. Varieties in   "Meet Your Future Favorites: New Varieties
      long-lasting summer performance.    the SunPatiens Helios series are 20 percent   for 2018-19" at the 2018 Griffin Expos!
                                          more compact, performing especially well
      Bigger, better, more                in containers and combos.
      Improvement was the name of the game
      for Sakata this year. The breeder rolled   It wouldn't be a new season without new
      out significant upgrades in its most    Confetti Gardens mixes. I counted 10
      popular crops.                      introductions featuring new and improved
                                          varieties, including Sweetunia Fiona Flash
      SunPatiens selection just got easier:   petunia (red with a darker star pattern).
      The family has been simplified into only
      two subsets – Compact and Vigorous.   For shade programs we have two new
      Compact varieties work well in high-density   Main Street coleus colors, Ocean Drive
      production with top-notch retail appeal and   and Alligator Alley.
      home garden performance. Vigorous types   Tattoo you
      are ideal for cooler climates and anywhere   The breeders at PanAmerican Seed
      fast growing and massive color is essential.   were busy this year, launching new and
      Between the two, we have four new colors:   improved varieties in annuals, perennials,
      Compact Pink Candy (a pink-rose bicolor),   potted crops, cut flowers and vegetables.
      Vigorous Orchid, Vigorous Red and                                          Ready, Set, Grow!
      Vigorous Rose Pink.                 Their striking new vinca series, Tattoo, really   All these new varieties have us feeling
                                          got folks talking at CAST and it's sure to do
      SuperCal, the petunia x calibrachoa hybrid,   the same at retail. Tattoo features four fruit-  excited for the 2018-19 growing season!
      gains an upscale sister series for 2019.   inspired colors, each "inked" or airbrushed   You too? There's more where this came
      SuperCal Premium features larger flowers   with soft strokes of black. Be sure to try this   from: Our 2019 Seed & Plant catalog is
      and a stronger mounding habit than   in your summer programs, as Tattoo shows   coming soon!
      original SuperCal. Of course, both series   the best color contrast when grown under   Our new catalog debuts this month
      perform well through all types of weather,   warm conditions and higher light.  in print and digital formats. It's loaded
      including rain, heat and cold. The five-                                   with nearly 500 introductions in seed
      color SuperCal Premium series includes   Two  improvements  in  Easy  Wave  petunia   and vegetative annuals, perennials
      novelty colors: Bordeaux, Caramel Yellow,   went an especially long way. Easy Wave   and edibles! Contact your Griffin sales
      Cinnamon,  French  Vanilla  and  Sunray   Red and Easy Wave Violet were upgraded   representative, or visit us at a trade show
                                                                                 or the Griffin Expos to pick up a copy.
                                                                                 The digital edition is coming soon to
                                            More to see online | See our digital Gazette
        6   |   Griffin Gazette 2018                                             www.griffins.com/publications.
                                            for more of our top picks from the Class of 2019.