Page 31 - Griffin Gazette Issue 3 - 2018
P. 31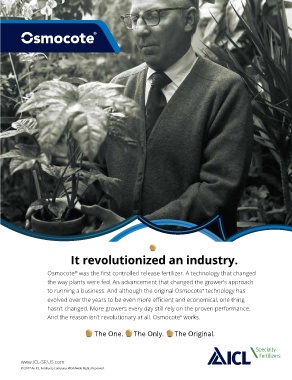 It revolutionized an industry.


                     Osmocote  was the first controlled release fertilizer. A technology that changed
                                ®
                     the way plants were fed. An advancement that changed the grower's approach
                     to running a business. And although the original Osmocote® technology has
                     evolved over the years to be even more efficient and economical, one thing
                     hasn't changed. More growers every day still rely on the proven performance.

                     And the reason isn't revolutionary at all. Osmocote® works.


                                        The One.      The Only.      The Original.





          www.ICL-SF.US.com
          © 2017 An ICL Fertilizers Company, Worldwide Rights Reserved.