Page 17 - Griffin Gazette Spring 2017
P. 17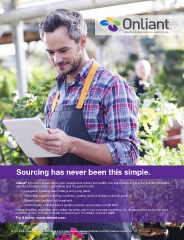 Sourcing has never been this simple.

    Onliant® is the easy-to-use online order management system from Griffin. One login connects you to the industry's broadest
    selection of products for the greenhouse and the garden center:
    	 >	 Live goods including seed, cuttings and young plants
    	 >	 Production supplies including containers, growing media and plant protection products
    	 >	 Greenhouse structures and equipment
    	 >	 Retail supplies including lawn & garden products, accessories and gift items
    Onliant simplifies, streamlines and clarifies the entire, end-to-end customer experience. It's an extension of our best-in-class
    customer service. It's high-tech with a human touch. It's Onliant, only from Griffin.

    Try it today: www.onliant.com

© 2017 Griffin Greenhouse Supplies, Inc. Onliant and the Onliant logo are registered trademarks of Griffin Greenhouse Supplies, Inc.