Page 3 - Griffin Gazette Spring 2017
P. 3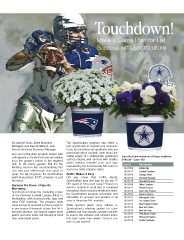 Touchdown!

                                                 Make a Game Plan for Fall
                                                 Success with Sporticulture

By Jeanne Svob, Seed Business                   The Sporticulture program also offers a      Sporticulture containers & tags available:
Manager; and Dennis Meisch, Live                rare opportunity to expand your customer     $140.00 - Case 100
Goods Assistant Business Manager                base, by attracting non-gardeners who are
                                                passionate about football. Think about the   Item #    Description
Any successful plant program begins with        selling power of a strategically positioned
solid genetics, the kind that perform reliably  endcap display, well stocked with healthy    95-32208  Buffalo Bills
from the grower's bench to the retailer's       plants bearing branded pots and tags         95-32217  Carolina Panthers
rack to the home garden. But it's the           representing the local favorite NFL team in  95-32223  Chicago Bears
finishing touches like merchandising that       your area. Hello, impulse sales!             95-32218  Cincinnati Bengals
can take your sell-through from good to                                                      95-32219  Cleveland Browns
great. For fall programs, the Sporticulture     Griffin Makes it Easy                        95-32209  Dallas Cowboys
point-of-purchase (POP) program is just         Did you know that Griffin stocks             95-32211  Denver Broncos
the ticket.                                     Sporticulture pots and tags for the top 17   95-32210  Green Bay Packers
                                                NFL teams in 100-count cases? There's no     95-32220  Houston Texans
Harness the Power of Sports                     need to commit to a full skid or truckload   95-32221  Indianapolis Colts
Marketing                                       of product; these reduced minimums make      95-32222  Los Angeles Rams
Sporticulture brings the marketing power        the Sporticulture program accessible and     95-32212  New England Patriots
of the National Football League (NFL) to        affordable for growers and retailers of all  95-32215  New York Giants
horticulture, with licensed pots, tags and      sizes in these key NFL markets.              95-32216  New York Jets
other POP materials. The program adds                                                        95-32225  Philadelphia Eagles
value and profit potential to plant programs    While finished plants must adhere to         95-32213  Pittsburgh Steelers
in any season! Research shows that NFL-         Sporticulture's planting guides for color    95-32214  Seattle Seahawks
licensed product commands higher price          palettes and crop classes, growers are free
points and sees faster sell-through at retail   to source the varieties and product forms
than unbranded plants.                          that best meet their needs. Contact our
                                                team to get started!