Page 20 - Griffin Gazette
P. 20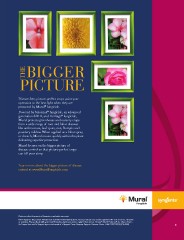 THEBIGGER
PICTURE

Disease-free, picture-perfect crops paint your
operation in the best light when they are
protected by Mural® fungicide.
Powered by Solatenol® fungicide, an advanced
generation SDHI, and Heritage® fungicide,
Mural protects greenhouse and nursery crops
from a wide range of root and foliar diseases
like anthracnose, leaf spots, rust, Botrytis and
powdery mildew. When applied as a foliar spray
or drench, Mural moves quickly within the plant
delivering superior protection.
Mural focuses on the bigger picture of
disease control so that picture-perfect crops
can tell your story.

Learn more about the bigger picture of disease
control at www.MuralFungicide.com

Photos are either the property of Syngenta or used under agreement.                                                                            ®
©2017 Syngenta. Important: Always read and follow label instructions. Some products may not be registered for sale or use in all states
or counties. Please check with your local Extension Service to ensure registration status. Heritage®, Mural®, Solatenol®, the Alliance Frame,
the Purpose Icon and the Syngenta logo are trademarks of a Syngenta Group Company. Syngenta Customer Center: 1-866-SYNGENT(A) (796-4368).