Page 10 - Griffin Gazette Issue 1 - 2018
P. 10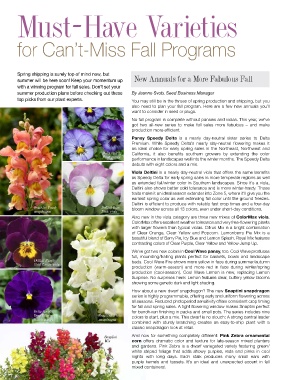 for Retail
        Must-Have Varieties






        for Can't-Miss Fall Programs






        Spring shipping is surely top of mind now, but
        summer will be here soon! Keep your momentum up   New Annuals for a More Fabulous Fall
        with a winning program for fall sales. Don't set your
        summer production plans before checking out these   By Jeanne Svob, Seed Business Manager
        top picks from our plant experts.              You may still be in the throes of spring production and shipping, but you
                                                       also need to plan your fall program. Here are a few new annuals you'll
                                                       want to consider in seed or plugs.
                                                       No fall program is complete without pansies and violas. This year, we've
                                                       got two all-new series to make fall sales more fabulous – and make
                                                       production more efficient.
                                                       Pansy  Speedy  Delta  is  a  nearly  day-neutral  sister  series  to  Delta
                                                       Premium.  While  Speedy  Delta's  nearly  day-neutral  flowering  makes  it
                                                       an ideal choice for early spring sales in the Northeast, Northwest and
                                           Delta Speedy   California, it also benefits southern growers by extending the color
                                           Frost pansy
                                                       performance in landscapes well into the winter months. The Speedy Delta
                                                       debuts with eight colors and a mix.
                                                       Viola Deltini is a nearly day-neutral viola that offers the same benefits
                                                       as Speedy Delta for early spring sales in more temperate regions as well
                                                       as extended fall/winter color in Southern landscapes. Since it's a viola,
                                                       Deltini also shows better cold tolerance and is more winter-hardy. Those
                                                       traits make it an ideal season extender into Zone 5, where it'll give you the
                                                       earliest spring color as well extending fall color until the ground freezes.
                                                       Deltini is efficient to produce with reliably fast crop times and a four-day
               Snaptini Peach              Deltini Rose   bloom window across all 13 colors, even under short-day conditions.
               snapdragon                  Pink viola
                                                       Also new in the viola category are three new mixes of ColorMax viola.
                                                       ColorMax offers excellent weather tolerance and very free-flowering plants
                                                       with larger flowers than typical violas. Citrus Mix is a bright combination
                                                       of Clear Orange, Clear Yellow and Popcorn. Lemonberry Pie Mix is a
                                                       beautiful blend of Berry Pie, Icy Blue and Lemon Splash. Royal Mix features
                                                       contrasting colors of Clear Purple, Clear Yellow and Yellow Jump Up.
                                                       We've got two new colors in Cool Wave pansy, too. Cool Wave produces
                                                       full, mounding/trailing plants perfect for baskets, bowls and landscape
               Deltini Purple                          beds. Cool Wave Fire shows more yellow in face during summer/autumn
               Gold Center viola
                                                       production (warm-season) and more red in face during winter/spring
                                                       production (cool-season).  Cool  Wave  Lemon  is  new,  replacing Lemon
                                                       Surprise. No surprises here: Lemon features clear, buttery yellow blooms
                                                       showing some genetic dark and light shading.
                                                       How about a new dwarf snapdragon? The new Snaptini snapdragon
                                                       series is highly programmable, offering early and uniform flowering across
                                                       all seasons. Reduced photoperiod sensitivity offers consistent crop timing
                                                       for fall and spring sales. A tight flowering window makes Snaptini perfect
               Delta Speedy                            for bench-run finishing in packs and small pots. The series includes nine
               Deep Blue w/               Snaptini White   colors to start, plus a mix. This dwarf is no slouch: A strong central leader
               Blotch pansy               snapdragon
                                                       combined with sturdy branching creates an easy-to-ship plant with a
                                                       classic snapdragon look at retail.
                                            Snaptini   And now for something completely different: Pink Zebra ornamental
                                            Mix        corn  offers dramatic color and texture for late-season mixed planters
                                                       and gardens. Pink Zebra is a dwarf variegated variety featuring green/
                                                       white striped foliage that adds showy purples, reds and pinks in cool
                                                       nights with long days. Each stalk produces many small ears with
                                                       purple kernels and tassels. It's an ideal and unexpected accent in fall
                                                       mixed containers!